Sweeping
We currently service over 110 Homeowner Associations from one time per quarter to one time per week. We believe that a quality sweep starts with quality equipment. Our fleet is equipped with PM10 certified regenerative air street sweepers. These trucks allow us to provide a clean sweep while controlling dust and retaining very small particulate matter. We believe in a Greener California, that's why our fleet of sweepers meet California AB32 CARB compliance.
WHAT WE SWEEP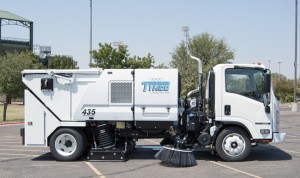 -Homeowners Associations
-Mobile Home Parks
-Apartment Complexes
BENEFITS OF SWEEPING:
Street sweeping serves a much greater purpose than just removing large debris for an aesthetically pleasing appearance. It is the first step in protecting our water supply. Weekly street sweeping is a proven measure in reducing particulate pollutants in storm water runoff and can reduce suspended solids in downstream receiving waters by more than 75%. The Environmental Protection Agency considers street sweeping a Best Management Practice in protecting water quality. Ask us how sweeping your community can help make our world a little greener!
STREET SWEEPING PROCEDURES:
Sweeping operations are normally conducted Monday through Friday, from 7:00 a.m. to 4:00 p.m. Street sweeping is a slow and methodical process. We start by mapping out the most efficient route thru your community ensuring both sides of the streets and any center-lines will be swept before we even enter your community. Once we have determined the best route we begin sweeping with gutter line speeds. We continue along our route making sure all gutter lines and center-lines are swept. If your community is gated we will hand clean the area around the drive through gates where the sweeper can not access.